A warm Welcome
It's our pleasure to welcome all our customers who are either based in Germany or abroad.
Here, you will find various possibilities and techniques that we undertake in terms of fulfilling your needs of t-shirt printing in Berlin. Be it t-shirt printing with screen printing, digital printing, sublimation printing, DTG, DTF, transfer printing or custom printing on various types of textiles, we are there near you.
On this web-page you will find short information about our services in English. For detailed information, please check individual pages of our homepage in German language.
---
Dies ist die Seite mit Informationen für unsere englischsprachigen Kunden. Unsere Standard-Startseite in deutscher Sprache finden Sie hier: Startseite T-Shirt Druck Berlin
---
Services we offer
Screen printing
Here the color is applied through a silk screen on the textile. As it is liquid, it can penetrate well onto the textile surface. Under this process a separate screen is required for each color printing. For example, three screens must be set up for a 3-color print. For dark textiles, a white negative background must be printed additionally, so that the colors look bright. T-shirts, polo shirts, sweatshirts… made from blended fabric or cotton can be well screen printed. Garments with lining or fleece fabric are not recommended to be screen printed.
Screen transfer printing
Here the motif is reversed printed on a carrier sheet. After each color, the sheet is run through the intermediate drying and when all the colors are printed, the printed surface is provided with an adhesive. If you have the logo to be printed, for example, 20 times on each sheet, the carrier film can then be cut, so you can apply the logos individually with the hot press on the textile. An advantage with Transfer screen printing is that you can mix the desired color exactly.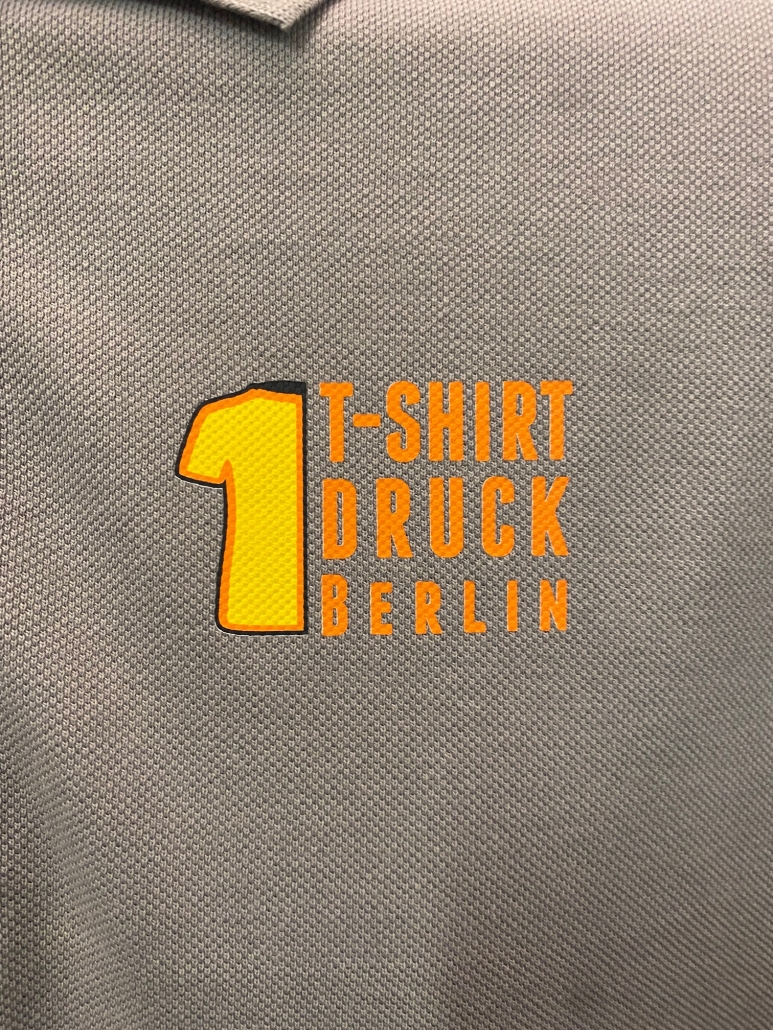 Flex pressure and flocking
Most of the printing of sports jerseys is done using this technique. A big advantage of flocking is that it makes it easier to print individual pieces. Under this process, flex or flock film is cut out in the desired motifs using a plotter. The cut artwork is applied to the shirt with a hot press. In 90% of cases, this process produces monochrome prints. Only in exceptional cases two or more colored prints are made.
Digital transfer printing
Using this technique, the multicolored motif is printed on a foil and the edge is cut out with a plotter knife. This film is then applied to the textile with a hot press. The colors are mixed as in a conventional inkjet printer from the colors cyan, magenta, yellow, black. Thus, if not all, then the representation of almost all shades possible. The digital transfer printing is then the right printing technique, if the quantity is not too large, textile is not in digital direct printing and the motif is multicolored.
Laser transfer printing
Here the desired print motif is printed on a transfer film with a laser printer. From this transfer film, the pressure is then applied to the T-shirt with a hot press. With laser transfer printing, all colors can be printed. Using this printing technique, shirts from cotton, blended fabric and polyester can be printed.
Direct To Film DTF
Using this printing method, we bring more flexibility and options to customise your smaller quantity requirements. Here, we first print the design on the foil and then transfer the same to the garment. This helps us to print complex, multicolored designs right from one garment on wards.
Sublimation printing
Sublimation printing is "in trend" as a method for printing multi colour high-quality images onto a range of fabrics and other objects, as the print output shows no resolution-loss when compared to the original image.
This printing method has its best effect on polyester apparel in white or light colors or hard surfaces with a poly-coating, such as coasters, mugs, mouse pads and more.
The sublimation printing needs sublimation papers to transfer the design on to the fabric, resulting in the image becoming a permanent part of the fabric. With the sublimation process, the ink becomes part of the fabric rather than a layer on top of it. The resulting transfer lasts much longer than heat transfer.
Direct To Garment DTG
'upload your favorite design and forget about the rest' Or 'printing services on-demand' when you have something like this on your mind, then DTG is the way!
This printing technique sends the ink through a woven mesh stencil onto fabric, which doesn't soak into the fabric but it lays on top.
The printer sprays the ink onto the garment using inject technology. The inks then soak into the fibers of the garment. It's something like printing on a paper, except that here we have clothing.
One can print detailed designs and photo-realistic images with virtually no color limitations
We can do screen printing of up to 10 colors and as may colors as you want under digital printing.
Products that we offer
You can get details about our entire product profile in Homepage under the heading KATALOG
Delivery
Our regular delivery time is 10 days. Express Delivery is also possible between 5 to 3 days.
You can contact us for your personalised requirements and we will be happy to send you the best offer
Call us or E-Mail us
Telephone: 030 398 393 00
E-Mail: info@tsd-berlin.com
Website: www.t-shirt-druck-berlin.com